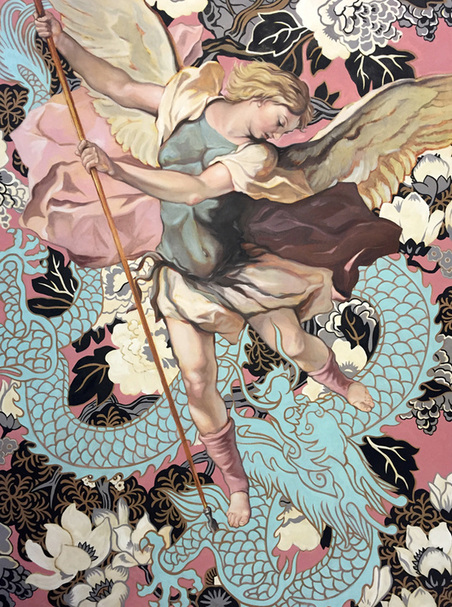 Anthony Riggs
The Irreversible
Triumph of Time

October 7th - November 19th, 2016

Opening Reception:
Friday, October 7th, 6-9pm

Artist's Talk:
Saturday, November 12th 2-3pm

---
---
Transmission Gallery is pleased to present The Irreversible Triumph of Time, a solo exhibition of paintings by Anthony Riggs.

Riggs' dramatic large-scale paintings explore a cultural kaleidoscope of competing belief systems. Employing a host of mythic figures, eastern symbolism, advertising methods and televised propaganda, the ensuing mash-up engenders new narratives in visually complex worlds.

Riggs' desire for the work is to invite an examination of the relationships between east and west, masculine and feminine, ancient and modern, science and religion. The visual feast he provides allows ample opportunity to consider these relationships and many more in light of "the near scientific thinking, environmental fear, and religious beliefs found in American mainstream culture" reflected in the paintings.

The pleasure comes in loosing oneself in the imagery and color while working out an understanding of the "story" as it emerges from the canvas. Will our "unfortunate, irrational faith in reason" lead us astray? Has our vision of manifest destiny hopelessly crushed our sustaining ecology? How do we assemble colliding desires, subterranean superstitions and educated understanding into a coherent world view? Does it matter if we do?

As Riggs points out in his statement on the work, "In one canvas, science gains ground only to be thwarted by nature. In another, religion is flanked by technology. As the dust settles, we convince ourselves that this time we have made progress. Then, like some absurd cosmic joke the whole mess repeats itself. Only time is left standing victorious."


---
Now on view in the Transmission Gallery office:


Joey Yang - Original Drawings from Make America Colorful Again, A Donald Trump coloring book, badly drawn

---

Stop by to see this special exhibition of ten of the original blind contour drawings Joey Yang made and used in

Make America Colorful Again, A Donald Trump coloring book, badly drawn.

Yang addresses the sometimes challenging ideas and ideals that helped forge America, specifically voicing concerns about hate speech and immigration, through art and humor. He calls on us all to take part in the action by registering to vote (and voting!) and also pledging to speak out against hateful speech.

Find out more about

his work and his project at here

.
---
Transmission Gallery promotes primarily regional and national figurative artists with an emphasis on Expressionism, California Funk and Socially Engaged Art.