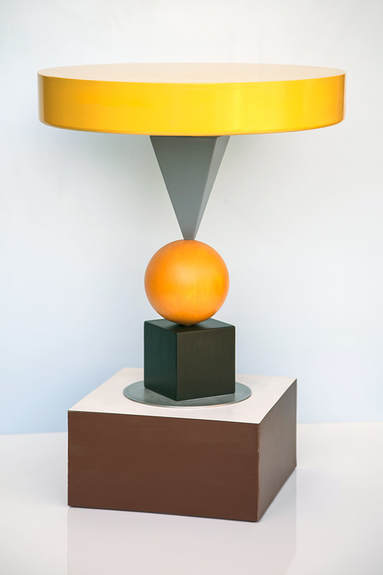 ​
​Garry Knox Bennett
The Object at Hand
​December 1st - January 20th
Special Event:
A Conversation with Garry Knox Bennett
Saturday, January 13th from 3-5 pm
​Join us for refreshments starting at 3 pm
Garry will speak about 3:30 pm
---
---
Transmission Gallery is pleased to announce a solo exhibition of work by Garry Knox Bennett in "The Object at Hand," on view December 1st through January 20th, with an opening reception on Friday, December 1st from 6-9 pm.

Oakland artist and furniture maker, Garry Knox Bennett, is celebrated as a maverick for crossing the boundaries of craft and sculpture throughout his decades long exploration of style, creativity and functionality.

Emerging as a sculptor just prior to the Bay Area Funk Art and Hippie era aesthetic of the 60's and 70's, Bennett began crafting objects and jewelry as a means of supporting himself. Over the years, he veered farther into making, refining and redefining functional pieces while simultaneously challenging the precepts of fine furniture craftsmanship by interjecting incongruous detail and a sense of humor in his work. Pursuing the free synthesis of style, motif and material in creating aesthetic objects, Bennett operates on the one hand as an artist, while his elegant concern for dimension and function grant him solid stature as a furniture maker. The beauty of his work is in bridging the divide between the two. Bennett's philosophical and practical place at this intersection between craft and art has been recognized in exhibitions at both the American Craft Museum in New York and at the Oakland Museum of California.

Bennett's unique amalgamation of design and carefully considered sense of proportion are evident in the selection of works on view at Transmission Gallery, including chairs, lamps and small tables, as well as a wry series of roach clips, alongside paintings and sculpture.
---
Up Next: Recent Work by Malia Landis and Wesley T. Wright
---
In the Office:






​Take a moment to step into The Office at Transmission to see what's going on as we plan new exhibitions and hold pieces over from previous shows. Check out the new additions, neon pieces by Linda Sue Price and Bill Concannon.
​
​We also have work by neon artists Shawna Peterson & Roger Daniells as well as works by Karl X. Hauser, Livia Stein, Maija Peeples-Bright, Sachiko Miki, Cate White, Anthony Riggs, Jerry Ross Barrish and other works as pieces move in and out of the Office.
​
---

​Transmission Gallery promotes primarily regional and national figurative artists
with an emphasis on Expressionism, California Funk and Socially Engaged Art.