Maija Peeples-Bright
Beyond the Candy Store
a survey of work spanning six decades of California Funk Art

April 1 - May 21, 2016
Opening Reception: Friday, April 1st from 6-9 pm
Artist's Talk and Closing Reception: Saturday, May 21st from 2-4 pm


---
Transmission Gallery is pleased to present an exhibition that includes new work and historically important work, dating from the 60's onward, by Maija (Zack/Woof) Peeples-Bright, one of the remaining living artists of the California Funk Movement.
Maija Peeples-Bright
came of age in the 60's in the company of the grand masters of the Funk Art movement who often hung out at her home, the "
Rainbow House"
, the San Francisco Victorian she fabulously embellished inside and out. At 908 Steiner Street,
the Rainbow House,
also known as the
Iverson House
and the
Psychedelic House,
had a special place on the San Francisco scene in it's hey day. It was featured in the Saturday Evening Post,
Art and Artists, Ltd., the San Francisco Chronicle
and other publications for it's dramatic color (see below) and the fantastically inventive murals Maija (Zack) Peeples-Bright painted on the ceilings and walls.
Peeples-Bright spent the next two decades showing work at the Candy Store Gallery,
legendary in the history of the Funk Art movement. She had numerous solo exhibitions and also showed regularly alongside Roy De Forest, Robert Arneson, David Gilhooly, Jim Nutt, and Peter Vandenberg, among other Funk Art regulars. Sculptor,
Gilhooly placed Maija Peeples-Bright front and center of his 1981 ceramic piece, the
Candy Store Memorial Ark
, featured in exhibition at the Crocker Museum in Welcome to the Candy Store, acknowledging the significant contributions Adeline McHugh, and her gallery, made to the Funk Art movement.
In her career beyond the Candy Store, Peeples-Bright has her irreverent and spirited Funk Art aesthetic, expounding on her signature colorful "beasties", critters and wild kingdom imagery in outpouring of playful paintings and ceramic pieces. Her energetic studio practice continues to this day.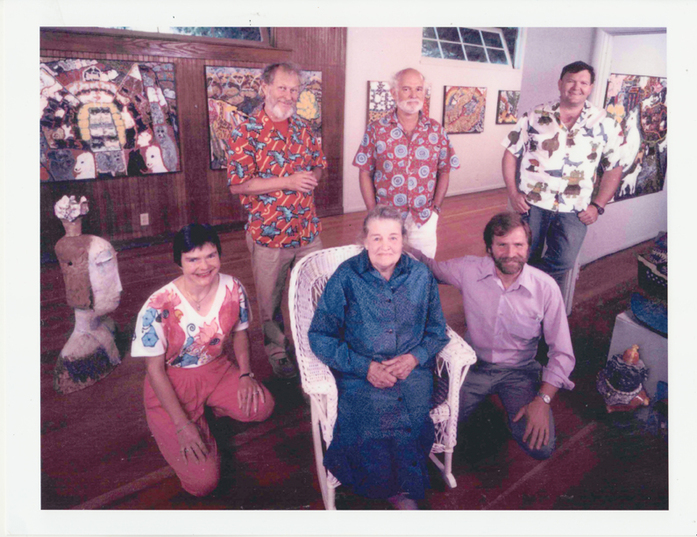 Front: Maija Peeples-Bright, Adeliza McHugh, Peter Vanderberg, Back: Roy De Forest, Robert Arneson, David Gilhooly. 1981
Transmission Gallery will be showing artifacts of Maija Peeples-Bright's life, such as a vintage Rainbow House curtain, circa 1968, and funk art ceramic lamps used in her home alongside paintings, works on paper and ceramic works dating from 1964 to 2016.

Peeples-Bright was born in Latvia, enduring a childhood of hardship in refuge camps during the war. When she was eight her family moved to California and as a young student at UC Davis she embarked on a degree in mathematics. In her third year at Davis she discovered her creative passion and switched majors to study with noted artists Wayne Thiebaud, William T. Wiley and Robert Arneson, earning her masters in 1964. Today, her work can be found in many public and private collections as well as in permanent museum collections such as the Crocker Art Museum, in Sacramento, and the La Jolla Museum of La Jolla, California, among others.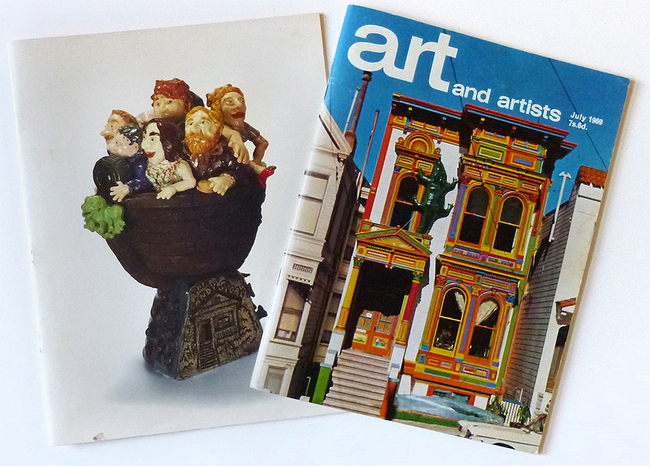 Welcome to the Candy Store, 1981 Crocker Museum catalog, and the Rainbow House on the cover of Art and Artists, July 1969