Maija Peeples-Bright
---
Maija Peeples-Bright
was born in Latvia, enduring a childhood of hardship in refugee camps during the war. When she was eight her family managed to make their way to California and as a young student at UC Davis she embarked on a degree in mathematics. In a surprising turn of events during her third year of study at Davis, she discovered a new passion while taking an elective class in the art department. Smitten, she switched majors to study with noted artists Wayne Thiebaud, William T. Wiley and Robert Arneson, earning her masters in 1964.
Not far away in Folsom, Adeliza McHugh embarked on an unlikely career making candy and selling art at the
Candy Store Gallery
. She focused on a new and wildly irreverent style of wacky and faux-naïve work. Showing artists such as Arneson, Roy De Forest, David Gilhooly, Maija Peeples-Bright and Peter VandenBerge, the Candy Store Gallery became legendary in the history of
Funk Art
. Peeples-Bright became an integral part of the movement, as memorialized years later by Gilhooly who placed her front and center of his ceramic piece, the Candy Store Memorial Ark, which was featured on the cover of the catalog for the 1981
Crocker Museum of Art
exhibition,
Welcome to the Candy Store
. Peeples-Bright showed routinely at the Candy Store Gallery for two decades until its close.
Beyond the Candy Store, Peeples-Bright maintained a dedicated and energetic studio practice that continues to this day. Her work has shown in numerous galleries and art centers, with pieces placed in both public, museum and private collections.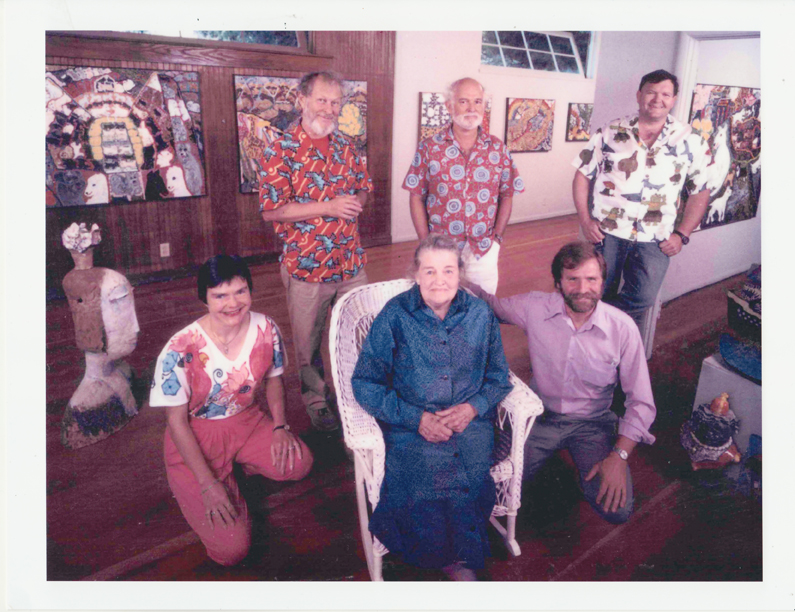 Front: Maija Peeples-Bright, Adeliza McHugh, Peter VanderBerge, Back: Roy De Forest, Robert Arneson, David Gilhooly. 1981